Age Groups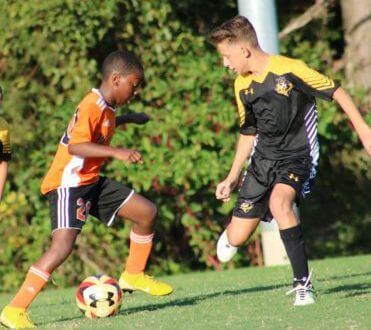 Our Intramural league is made up of co-ed teams ranging from older 3-year olds up to 17 years of age.
Bowie FC follows the US Youth Soccer Association's age grouping recommendations. Your player's soccer age is determined by your player's birth year. Determining your player's soccer age can be tricky. Soccer age grouping starts in the fall season of a calendar year and carries through the subsequent spring season. US Club Soccer has a nice chart that will help you determine your child's soccer age by birth year and season year. If you need (or would like) to play out of your established age group, you must request a waiver to do so. Please provide your request to the appropriate age director of your player's actual age group, age director contact information is in the table at the bottom of this page. Generally, your child's birthday must be within a month of the cutoff to play down an age group and within 12 months to play up.
Cost
Affordable Pricing
Our intramural league cost is $75 per season and it includes two BBGC game jerseys (one orange and one black) that you get to keep. Be sure to enter the correct shirt size at the time of registration. BBGC intramural soccer is an all-volunteer organization and the best way to ensure you get the schedule you want is to step up and become a coach. Anyone interested in coaching in the intramural or travel program should send the request to soccer@bbgc.com.
Quality Programming
By being a head coach, you: * Get to set your practice schedule (day and time) * Pick your practice field * Are provided a refund of your registration fee after the season when you return your equipment. NOTE: Please list any practice day conflicts and coach requests in the registration system. We TRY to accommodate these to the best of our ability, but there are absolutely NO GUARANTEES.
About Our Program
Season
The intramural program has two soccer seasons – fall and spring. The fall season starts in early September and runs until the beginning of November depending on the weather. The spring season starts in early March and normally runs until the end of April or beginning of May depending on the weather.
Practices
Practices are about 60-75 minutes. Coaches are volunteers and are only required to hold at least one practice a week. Your team's practice schedule will be determined by your assigned volunteer coach. Practices are generally held between 5:00 pm and 7:00 pm.
Games
Games are played primarily on Saturdays and on fields within the city of Bowie. Dates, times, and locations for make-up games are coordinated by the head coaches.
Equipment Requirements
The only equipment required for your child are soccer shin pads and plenty of water. It is recommended that each player also have soccer cleats and their own ball at practice but these are not mandatory. Coaches are provided a bag with some equipment which includes approximately five soccer balls. The more balls that are available, the more time each child gets to have a ball at their feet and practice their skills. Also, baseball and football cleats with a front cleat ARE NOT allowed for soccer.